Ad blocker interference detected!
Wikia is a free-to-use site that makes money from advertising. We have a modified experience for viewers using ad blockers

Wikia is not accessible if you've made further modifications. Remove the custom ad blocker rule(s) and the page will load as expected.
Crafting

Alchemy
|
Cookery
|
Blacksmithing
|

Tailoring
|

Construction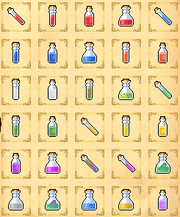 Alchemy
lets you create potions, with various effects, from healing and restoring, to increasing your skills
Each point in Alchemy or Artistry raises the chance of successfully creating an item by 0.1%.
Name
Recipe
Description
Cost
Value
Base Chance
Duration
Minor Healing Potion

Heal: 1D8
11.25
25
70%
Instant
Healing Potion

Heal: 3D6
22.5
40
65%
Instant
Major Healing Potion

Heal: 5D10
60
75
40%
Instant
Super Healing Potion

Heal: 8D12
108.75
100
-60%
Instant
Minor Mana Potion

Restore Mana: 1D8
11.25
25
70%
Instant
Mana Potion

Restore Mana: 3D6
22.5
40
65%
Instant
Major Mana Potion

Restore Mana: 5D10
60
75
40%
Instant
Super Mana Potion

Restore Mana: 8D12
108.75
100
-60%
Instant
Potion of Accuracy

Hit Chance +25%
48.75
50
35%
Until end of battle
Elixir of Absolute Accuracy

Hit Chance +60%
97.5
100
0%
Until end of battle
Potion of Armour

Protection +15
15
50
50%
Until end of battle
Potion of Immunity

Protection +30
60
100
-60%
Until end of battle
Rage Potion

Damage Increase +50
60
75
40%
Until end of battle
Potion of Pure Rage

Damage Increase +150
120
120
-80%
Until end of battle
Minor Dodge Potion

Dodge Skill +15
11.25
50
60%
Until end of battle
Dodge Potion

Dodge Skill +30
33.75
70
20%
Until end of battle
Super Dodge Potion

Dodge Skill +60
97.5
110
-30%
Until end of battle
Minor Arcana Potion

Spell Damage +15
11.25
40
55%
Until end of battle
Arcana Potion

Spell Damage +30
60
120
10%
Until end of battle
Super Arcana Potion

Spell Damage +60
108.75
150
-30%
Until end of battle
Potion of Restoration

Restore and Heal 3D6
45
100
10%
Instant
Potion of Perfect Health

Restore and Heal 5D20
195
200
-80%
Instant
Potion of Focus

Critical Chance +50%
60
100
5%
Until end of battle
Potion of Criticality

Critical Chance +80%
108.75
150
-30%
Until end of battle
Elixir of Twisted Fate

"Divine Intervention"
When used, states "You no longer fear death of any kind". Allows you to regenerate 25 health when you would normally die, only works a single time.
345
800
-110%
Until Death
Oil of Enhancement

"Enhance Weapon: 1"
This potion increases the dice component of a weapon's damage by one. e.g. from 2D10 to 3D10.
345
1000
-150%
Permanent
Remedy of Learning

Train Random Skills
345
1000
-100%
Permanent

Swirly Potion




?
Max Mana +1
100
Permanent
Elixir of Harnessing / Attunement Potion

Max Mana +3
262.5
500
-120%
Permanent

Pungent Potion

?
Max Hit Points +2
100
Permanent
Elixir of Toughening
Max Hit Points +10
262.5
1000
-120%
Permanent
Oil of Polishing

"Enhance Armour: 1"
This potion increases the protection of a random armour piece that is equipped by 1.
345
1000
-150%
Permanent